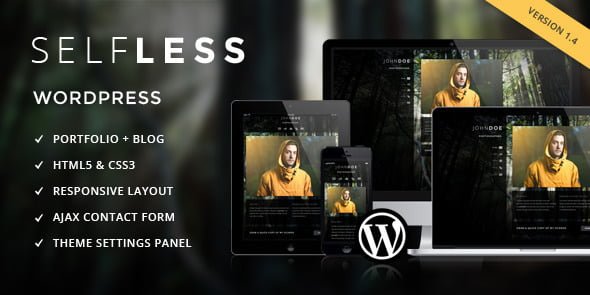 [ad_1]
Selfless is a powerful one page WordPress theme designed for a personal or company portfolio. Using advanced jQuery features, the layout is designed for all user types providing a rich and smooth browsing experience. This is the WordPress version of the theme and therefore is extremely simple to install and manage!
The layout is fully responsive and will adjust to any screen size, even mobile devices!
Main Features
Portfolio + Blog
Theme Settings Panel
Custom Post Types
HTML5 & CSS3 Valid
Google Fonts
Full responsive layout
One page scrolling
1 PSD file for customization
Fully functional AJAX contact form
What buyers are saying
Great service. Best of luck with selling the pants off this one. – cratexl
awesome theme – great customer support – thanks for the FAQs – I just gave you a 5 star rating (first one I have given on themeforest and I have purchased over 40 themes this year) – imagu
Awesome theme! I'm loving it so far – Goshawk2
excellent support. Shorti please build more themes as I would happily just purchase yours as your help and flexibility is second to none. – sanch3z
wow, this theme is great! enough customization to make the theme fit my business and possible to get everything working without that much knowledge. – imaazje
this is simply an excellent buy! I would recommend this to my clients in a heart beat as it is truly worthy. – drmedia1
Great theme and fantastic customer support. Recommended! – backne
If you are looking for an amazing theme with truly great features, support and appeal, then look no further! Shorti hit the nail on the head with this theme. It's user friendly and even comes with great 'how-to' documentation.
5 stars just isn't enough! Well done, Shorti! – goprorentals
Great theme, great service! Others are right, 5 stars is just not enough! – John445
Updates
Version 1.4 – February 25, 2013
Separated project categories from blog categories.
Removed quotation from empty sub title option.
Fixed download button text issue in theme options.
Fixed posts not showing on blog.
Fixed work section headings and nav link bug, clicking faded page out.
Fixed contact form issue with "Name" field.
Provided shortcode support for profile text boxes.
Added "open in new tab" feature to button shortcode.
Added theme option to link to a new page for each menu item.
Fixed work URL opening up in PrettyPhoto.
Added theme option for categorizing skills into skill sets.
Fixed options framework error "Name".
Added theme option to change "Messent Sent" text.
Version 1.3 – January 31, 2013
Added video support to work projects.
Added Google Analytics Code box to theme options.
Added Custom Styles (CSS) box to theme options.
Version 1.2 – January 25, 2013
Fixed problem with meta not saving for skills, work and posts.
Version 1.1 – January 23, 2013
Fixed logo uploading bug by changing id for the option.
Fixed vcard download bug when screen fades out.
Added XML file for demo.
If you have purchased this theme and need help, visit our website for support.
[ad_2]
Source